CarolinianCanada.ca | GoWildGrowWild.ca | InTheZoneGardens.ca
SAVE THE DATE
Shifting the Paradigm forum
How do we work together to build a thriving native plant industry?
---
Wednesday, March 7, 2018
St. James Cathedral Centre, 65 Church St., Toronto
---
There's a quiet revolution underway. In the Zone and other successful gardening programs for native plants and pollinators demonstrate the growing awareness that what we plant makes a difference. Businesses, institutions, municipalities and homeowners across Ontario are creating attractive, green, climate-resilient, natural infrastructure with native plants.
This growing desire to take action represents a shift in the market for the billion-dollar horticulture industry in Ontario. Professional planters and lay enthusiasts are saying that demand for native plants exceeds supply. First Nations and entrepreneurial ecologists are already leading the way. Is it time for the industry to ramp up production and distribution?
Join us at the Shifting the Paradigm forum as we map the native plant supply chain with leaders from the horticultural and landscaping sectors, governments, First Nations, social finance, retail distributors, NGOs and garden clubs.
Add the forum to your calendar!
Registration Opens Soon! For more information visit:
caroliniancanada.ca/forum2018
Together we will explore opportunities to empower individuals, businesses and communities to grow healthy, beautiful green infrastructure naturally fit for the southern Ontario landscape.
Presented by Carolinian Canada and WWF-Canada
with support from the Ontario Trillium Foundation and other partners
---
Mark Your Calendars: Our Water in a Changing Climate
---
Mark Your Calendars: Go Wild, Grow Wild Is Back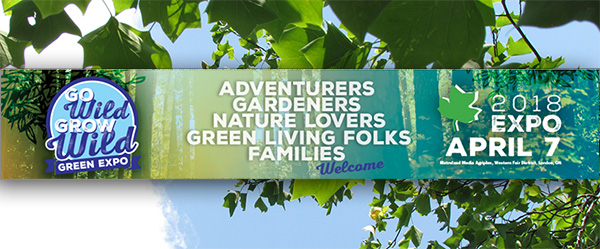 GoWildGrowWild.ca | CarolinianCanada.ca | InTheZoneGardens.ca
Mark Your Calendars!
Go Wild Grow Wild is BACK!GoWildGrowWild.ca
Saturday, April 7, 2018
Metroland Media Agriplex• Western Fair District •London, Ontario
The essential Expo for wild & green people
Come join us for the largest gathering of the region's businesses, experts, organizations, and groups committed to growing a greener future.  Go Wild Grow Wild will inspire you to discover wild places, grow great gardens and live green in Carolinian Canada.
Registration is now open for interested exhibitors at gowildgrowwild.ca
Register your booth before January 25th to avoid late fees!
We Are Growing! NEW FOR 2018
GREEN LIVING ZONE
Build a sustainable and green life.
+GREEN MARKETPLACE
A collection of vendors to make your home, backyard and community more green and sustainable.
+More of What You Love
5 workshop areas, Wild Child passports, live wildlife shows, 100+ exhibitors, eco-healthy food and drink, Friday Kick-off and much more.
Registration is now open for interested exhibitors at gowildgrowwild.ca
Register your booth before January 25th to avoid late fees!
Check back often as we add more details about Expo 2018!
Go Wild Grow Wild 2017 – Saturday April 7, 2018 – 9:30 a.m. – 4:30 p.m.
Metroland Media Agriplex, Western Fair District, London, ON
PLEASE FEEL FREE TO FORWARD TO YOUR NETWORKImmerse yourself in nature on your doorstep and discover Canada's biodiversity hotspot.  Carolinian Canada's diverse network advances a strategic 'Big Picture' vision for healthy landscapes from Toronto to Windsor. Join this year to grow Canada by supporting local trees, wildflowers and wildlife in Canada's deep south.  Together we green the future.

EXPLORE CAROLINIANCANADA.CA
Who are we?  We are a strong coalition of groups and individuals who care about the unique nature of the Carolinian zone. Our Board includes major conservation groups and stakeholders: caroliniancanada.ca/board-directors. Our team works across the zone caroliniancanada.ca/staff. (Canadian Registered Charity 83559 4722 RR0001) Carolinian Canada Coalition is charity with a mandate for conservation, research and education.
---
Join Us November 12 for STOMP THE DUMP!
---
Enter the Great Oxford County Photo Contest
Submit your photos of Nature taken in Oxford County including Landscapes, Wildlife, Wildflowers, Insects and Close-ups of Nature.
Deadline is: October 31, 2017.
Please send photos to: ingersolldistrictnatureclub@gmail.com in pdf format.
If you have questions, contact us by email or contact Rob at 519-608-3032.
---
IDNC Visits the Pinery
Click here for great photos from our June 24 trip.
---

Making a Big Difference for Tiny Creatures
As you know, monarch butterflies are in serious trouble. You can do your part by calling on the federal government to take immediate action to protect them.
Sending an email may seem small, but you'll combine your voice with tens of thousands of others, to push our elected officials to act.
There's more you can do to help monarchs! Check out the Monarch Manifesto:
http://action2.davidsuzuki.org/monarchmanifesto
And be sure to check out the new Butterflyway Project. Volunteer Butterflyway Rangers are bringing nature home to neighbourhoods in five cities across the country! Stay tuned for more butterfly-friendly fun at http://butterflyway.davidsuzuki.org/.
---
The David Suzuki Foundation Wants us to "Save Monarch Butterflies Before It's Too Late!"
In the past 20 years, more than 90 per cent of the monarch butterflies that migrate from Mexico to Canada have disappeared. After a couple of years of modest improvement, the monarch population dropped by more than 25 per cent last year.
Read more about this very important subject and find out what you can do to help the David Suzuki Foundation at http://action2.davidsuzuki.org/monarchshttp://action2.davidsuzuki.org/monarchs
---
Reminder: Trip to Van Sittart Trail
Join us on April 29 for our trip to the Van Sittart Trail
This trail loops through hardwood and pine forests. With one long incline, the rest is relatively flat. Great opportunity to get outdoors and enjoy the return of spring!
For more on this and other IDNC events, visit https://ingersollnatureclub.com/club-activities/activities-calendar/
---
Monarch Watch Announces New Citizen Science Project
Monarch Watch is seeking the immediate assistance of hundreds of monarch enthusiasts (citizen scientists) in collecting observations of monarchs in their area during the spring and fall. This project is an attempt to assemble quantitative data on monarch numbers at critical times during the breeding season. The data from these observations will be used to assess their value in predicting trends in the population.
Visit the Monarch Watch website to learn more.
---
Celebrate Ingersoll District Nature Club's 65th Anniversary
Discover more about some of the key members of IDNC.
---
Reminder: Our 4th Annual Photo Contest "Back Roads Oxford" is Underway!
In celebration of our beautiful county and Canada 150 we invite all photographers to send their best pics of back road nature scenery in Oxford County. Deadline is October 13th, 2017 at 5:00 p.m.
Photos should be sent to ingersolldistrictnatureclub@gmail.com in pdf format.  Please send no  more than 3 entries per person.  Should you have questions, please contact us by email or call Rob at 519-608-3032.  Prizes will be awarded to the top photos.
Join us in celebrating Canada's 150th Anniversary!
---
Mark Your Calendars: Earth Hour is Two Weeks Away

This year's Earth Hour takes place on Saturday, March 25 at 8:30 pm. For more information about how you can take part, visit https://www.earthhour.org/
Visit Earth Hour 2017's Facebook page at https://www.facebook.com/events/245738609170454/
No matter where you are in the World, there are Earth Hour events taking place near you, visit http://www.earthhour.org/map to find a local event.
---
 Just Announced: Long Point Basin Land Trust
Ingersoll Public Library – Tuesday, March 21 – 7:oo pm
Join Lyndsay Shuler of the Long Point Basin Land Trust for an informative hour on land conservation and preservation of our Carolinian Zone landscape, habitats, ecosystems, wildlife, species at risk and cultural heritage. Our Carolinian region is less than ¼ of 1 percent of the whole country's land mass yet is home to more species than most other parts of Canada.
---
Just Announced: Carlton Marsh
Calton Marsh – Saturday, April 15, 8:00 pm (Carpool at 7:00 pm)
Join us on a guided tour of Calton Marsh. Night time is a busy time at the marsh – come hear the surreal sounds that come with spring's arrival. Bring your camera. Limited to 12 participants. Rain date – April 22. For sign-up, contact: Dave
---
Cancelled – Winter Kid's Day at Lawson Nature Reserve
We're sorry to have to withdraw this activity scheduled for March 25 – be sure to come to our Frog Watch on April 27th.
---
Eco Folk 2017 – Thames Talbot Land Trust Benefit Concert
---
February 18 Walk Photos
A walk at Roth Park, Pittock Dam on a beautiful winter day presented the following sights.
---
The David Suzuki Foundation says "Canada must ban neonics"
From the David Suzuki Foundation website:
"We're starting to turn a corner away from the indiscriminate use of these harmful chemicals. But we need to pick up the pace.
Health Canada has proposed to phase out the commonly used neonic pesticide imidacloprid within three to five years and has launched special reviews of other neonics registered for use in Canada."
Read more at: http://action2.davidsuzuki.org/neonics
---
The Messenger:
Birds Have Something to Tell Us
Award-Winning Eco-Documentary Coming to
the UNIFOR Hall in Ingersoll, Thursday, February 23rd, 2017
Ingersoll, Ontario – February 23rd, 2017
The award-winning documentary film, The Messenger, is coming to Ingersoll. Director Su Rynard's visionary film will be showing for one night only at the Ingersoll UNIFOR Hall.
An essential film for anyone who cares about the environment and nature, The Messenger explores mankind's deep-seated connection to songbirds and the devastating impact humans have had on bird species, from urbanization, climate change and pesticides.
Screening information is as follows:
Thursday, February 23 @ 7:00 p.m. – The Ingersoll Unifor Hall, 364 Victoria Street, Ingersoll, ON
Since its world premiere at Toronto's Hot Docs Film Festival, The Messenger has wowed audiences the world over at more than 30 international film festivals, played in over 100 US Cinemas, and is available on US Netflix. A Hot Docs 2015 'Top Ten Audience Favourite', it has received several awards, including The Best Conservation Program from Jackson Hole Wildlife Film Festival, Best of Fest and Best Theatrical Feature, International Wildlife Film Festival plus a Canadian Screen Award nomination for Best Cinematography in a Feature Documentary and the Ontario Nature's Carl Nunn Media Impact Award.
Shot in Canada, Costa Rica, Germany, France, The Netherlands and the USA, The Messenger is an international story with high stakes global consequences. The film argues that the decline of songbirds is due to human activity, signaling an uncertain shift in an already fragile ecosystem while warning that the uncertain fate of songbirds might mirror our own.
The Messenger is directed by Su Rynard and produced by Joanne Jackson. Both grew up listening to bird song in the forest: Su at her family cottage in the Kawartha's and Joanne in her hometown of New Liskeard, Ontario.
To watch the trailer and for more information please visit the film website at http://themessengerdoc.com.
---
Ingersoll District Nature Club celebrates 65 years of nature conservation and advocacy with three major community events
Ingersoll – January 3, 2017 – The Ingersoll District Nature Club (IDNC) is proud to announce its 65th anniversary in 2017! This anniversary year also coincides with Canada 150, and in celebration, club members will be promoting nature throughout 2017 with free events, including:
4th Annual Photo Contest – "Back Roads Oxford"
In celebration of our beautiful county, our anniversary and Canada 150, IDNC invites all photographers to send their best photos of Oxford County back roads scenery.  With an extended deadline of October 13th, 2017 (at 5:00 p.m.) we hope nature buffs and photographers alike will capture some stunning shots across the seasons.  Prizes will be awarded. Full details may be found on our website.
Canada 150 – Canadian Rivers Through Photographs – January 18th
Join the IDNC at the Ingersoll Unifor Hall at 7:00 p.m. to view slides and hear about great northern and western Canadian rivers from nationally-acclaimed nature photographer Terry Parker.  Terry has spent over 20 years photographing in Canada's Northwest Territories and Rocky Mountains.  His work has appeared in several national and international publications including over 60 magazine covers.  His extensive experience in the field, as well as being an accomplished naturalist, has earned him recognition as one of Canada's leading outdoor photographers.
The Messenger – February 23rd
In recognition of the club's 65th year, a special showing of "The Messenger" will be presented at the Ingersoll Unifor Hall on February 23rd at 7:00 p.m.  This Canadian-made documentary explores the causes of songbird mass depletion and the compassionate people who are working to turn the tide.  This film is a visually thrilling ode to the beauty and importance of the imperiled songbird, and what it means to all of us on both a global and human level if we lose them.  Su Rynard's wide-ranging and contemplative documentary explores our deep-seated connection to birds and warns that the uncertain fate of songbirds might mirror our own.   Moving from the northern reaches of Boreal Forest to the base of Mount Ararat in Turkey to the streets of New York, The Messenger sends an impactful message of its own.
About the Ingersoll District Nature Club
The Ingersoll District Nature Club is interested in the development and preservation of nature in Oxford County and is the formal steward of the 36 acre (15 ha) Lawson Nature Reserve, south of Ingersoll on McBeth Road.  The club meets monthly from September to June, with most meetings held out of doors – where the best nature-inspired learning occurs! The Club has over 20 activities planned for both children and adults throughout the year.  For more information visit our website at www.ingersollnatureclub.com
Started in 1952 by Harry Sivyer, a local naturalist, and joined by other interested citizens, the group has prospered over the past 65 years.  The club's crowning achievement is the its stewardship of the Lawson Nature Reserve, south of Ingersoll in South-West Oxford, which is now owned by Ontario Nature, having been bequeathed by the family of Dr. John Lawson, a prominent member of the club.
---
Owl Prowl Held
It was a magical winter's eve at the Lawson Nature Reserve on January 28 where 53 visitors spotted three screech owls in the trees. Children and adults were excited with the sightings and fly-by's. Thanks go to Dave Baird for this educational nature experience.
---
New Look Coming for 2017
With a new year comes a new look for the Ingersoll District Nature Club's website. Over the next few weeks (or hopefully sooner) there will be some changes made to the website. Please continue to make return visits to our website to see the changes and upgrades we are making.
---
The Ingersoll District Nature Club has a brand new series of greeting cards. Click on the image below for more information:
---
2017 Club Activities Calendar Posted
We have some great activities lined up for 2017. Please visit our Activities page to view the complete listing (but check back as new updates will be added) and mark your calendar for the events you wish to attend. We look forward to seeing you there.
---
Fighting the Trashing of the Thames
Over the past four years, residents of Oxford County have directed over 77,000 letters to Queen's Park as part of a campaign to stop a mega-dump from coming to our region. The proposed landfill would receive 850,000 metric tonnes of garbage annually from across Ontario for a 20-year period, potentially contaminating groundwater and endangering vulnerable species.
Download and read a special insert from the January 2017 issue of the Oxford People Against the Landfill's newsletter.
---
WWF-Canada's Blog announces "Freshwater ecosystems face immediate threats"
"Across the globe, freshwater wildlife populations have declined 81 per cent over the past four decades. That's more than twice the population decline for land-based or ocean wildlife. In Canada, some of those freshwater species at risk include Atlantic salmon, white sturgeon, freshwater mussels, nooksack dace, the northern leopard frog, and seven of eight freshwater turtle species (including Blanding's, spotted and wood turtles)."
Read more of Elizabeth Hendrik's blog
---
 About the Ingersoll District Nature Club
IDNC naturalist Don Bucknell dispersing Milkweed seeds into the wind, at the Port Rowan Wetlands.
Since 1952, the Ingersoll District Nature Club has maintained an active and friendly nature community in Ingersoll. We welcome newcomers to participate in any and all activities.
Join us in a nature walk or other community activity. Please see our Club Activities for details of our planned hikes and meetings through our programming year. Our group typically meets monthly, in informal gatherings, to enjoy outings in nature areas in and adjacent to Oxford County.
We are interested in the development and preservation of nature in Oxford County, and are formal stewards of the 36 acre (15 ha) Lawson Nature Reserve, south of Ingersoll.
We are involved in:
Hiking and enjoying southwestern Ontario's natural heritage
Fostering family events to ensure our children are exposed to local natural attractions
Stewarding the Lawson Nature Reserve – invasive species management, hillside restorations, trail maintenance, signage, etc.
Encouraging seniors in active living through walks at the Nature Reserve
Celebrating Earth Day
Advocating on behalf of nature in general
So please, take a look around our site. You can see what we are all about, the activities that we offer, our signature trails and more. If you're interested in becoming a member, you can click here.
Also please find IDNC articles and content in the OPAL Newsletter published by Oxford People Against the Landfill.
Happy Trails!
---
If you have any questions, comments, or feedback, we would love to hear from you. 
We can be reached…
By e-mail:
ingersolldistrictnatureclub@gmail.com
By phone: 
Sheila Fleming (519) 485-2645
or
Wayne Walden (519) 485-4220