ECO FOLK 2018 Takes Place March 25
The Thames Talbot Land Trust will be presenting their third annual Eco Folk event at the Aeolian as a friend/ fund raiser.  Great music; great time; great cause.  This cabaret style event features Anderson's craft beer sampling – both before and during intermission. For more information,visit aeolianhall.ca
---
Earth Hour Is Coming

Earth Hour 2018 takes place 8:30 – 9:30 pm on Saturday March 24. See how you can take part and the impact your actions will have by visiting https://www.earthhour.org/
---
Mark Your Calendars: Go Wild, Grow Wild Is Back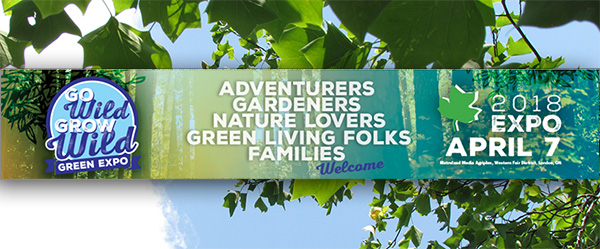 GoWildGrowWild.ca | CarolinianCanada.ca | InTheZoneGardens.ca
Mark Your Calendars!
Go Wild Grow Wild is BACK!GoWildGrowWild.ca
Saturday, April 7, 2018
Metroland Media Agriplex• Western Fair District •London, Ontario
The essential Expo for wild & green people
Come join us for the largest gathering of the region's businesses, experts, organizations, and groups committed to growing a greener future.  Go Wild Grow Wild will inspire you to discover wild places, grow great gardens and live green in Carolinian Canada.
Registration is now open for interested exhibitors at gowildgrowwild.ca
Register your booth before January 25th to avoid late fees!
We Are Growing! NEW FOR 2018
GREEN LIVING ZONE
Build a sustainable and green life.
+GREEN MARKETPLACE
A collection of vendors to make your home, backyard and community more green and sustainable.
+More of What You Love
5 workshop areas, Wild Child passports, live wildlife shows, 100+ exhibitors, eco-healthy food and drink, Friday Kick-off and much more.
Registration is now open for interested exhibitors at gowildgrowwild.ca
Register your booth before January 25th to avoid late fees!
Check back often as we add more details about Expo 2018!
Go Wild Grow Wild 2017 – Saturday April 7, 2018 – 9:30 a.m. – 4:30 p.m.
Metroland Media Agriplex, Western Fair District, London, ON
PLEASE FEEL FREE TO FORWARD TO YOUR NETWORKImmerse yourself in nature on your doorstep and discover Canada's biodiversity hotspot.  Carolinian Canada's diverse network advances a strategic 'Big Picture' vision for healthy landscapes from Toronto to Windsor. Join this year to grow Canada by supporting local trees, wildflowers and wildlife in Canada's deep south.  Together we green the future.

EXPLORE CAROLINIANCANADA.CA
Who are we?  We are a strong coalition of groups and individuals who care about the unique nature of the Carolinian zone. Our Board includes major conservation groups and stakeholders: caroliniancanada.ca/board-directors. Our team works across the zone caroliniancanada.ca/staff. (Canadian Registered Charity 83559 4722 RR0001) Carolinian Canada Coalition is charity with a mandate for conservation, research and education.
---
---
 About the Ingersoll District Nature Club
IDNC naturalist Don Bucknell dispersing Milkweed seeds into the wind, at the Port Rowan Wetlands.
Since 1952, the Ingersoll District Nature Club has maintained an active and friendly nature community in Ingersoll. We welcome newcomers to participate in any and all activities.
Join us in a nature walk or other community activity. Please see our Club Activities for details of our planned hikes and meetings through our programming year. Our group typically meets monthly, in informal gatherings, to enjoy outings in nature areas in and adjacent to Oxford County.
We are interested in the development and preservation of nature in Oxford County, and are formal stewards of the 36 acre (15 ha) Lawson Nature Reserve, south of Ingersoll.
We are involved in:
Hiking and enjoying southwestern Ontario's natural heritage
Fostering family events to ensure our children are exposed to local natural attractions
Stewarding the Lawson Nature Reserve – invasive species management, hillside restorations, trail maintenance, signage, etc.
Encouraging seniors in active living through walks at the Nature Reserve
Celebrating Earth Day
Advocating on behalf of nature in general
So please, take a look around our site. You can see what we are all about, the activities that we offer, our signature trails and more. If you're interested in becoming a member, you can click here.
Also please find IDNC articles and content in the OPAL Newsletter published by Oxford People Against the Landfill.
Happy Trails!
---
If you have any questions, comments, or feedback, we would love to hear from you. 
We can be reached…
By e-mail:
ingersolldistrictnatureclub@gmail.com
By phone: 
Sheila Fleming (519) 485-2645
or
Wayne Walden (519) 485-4220